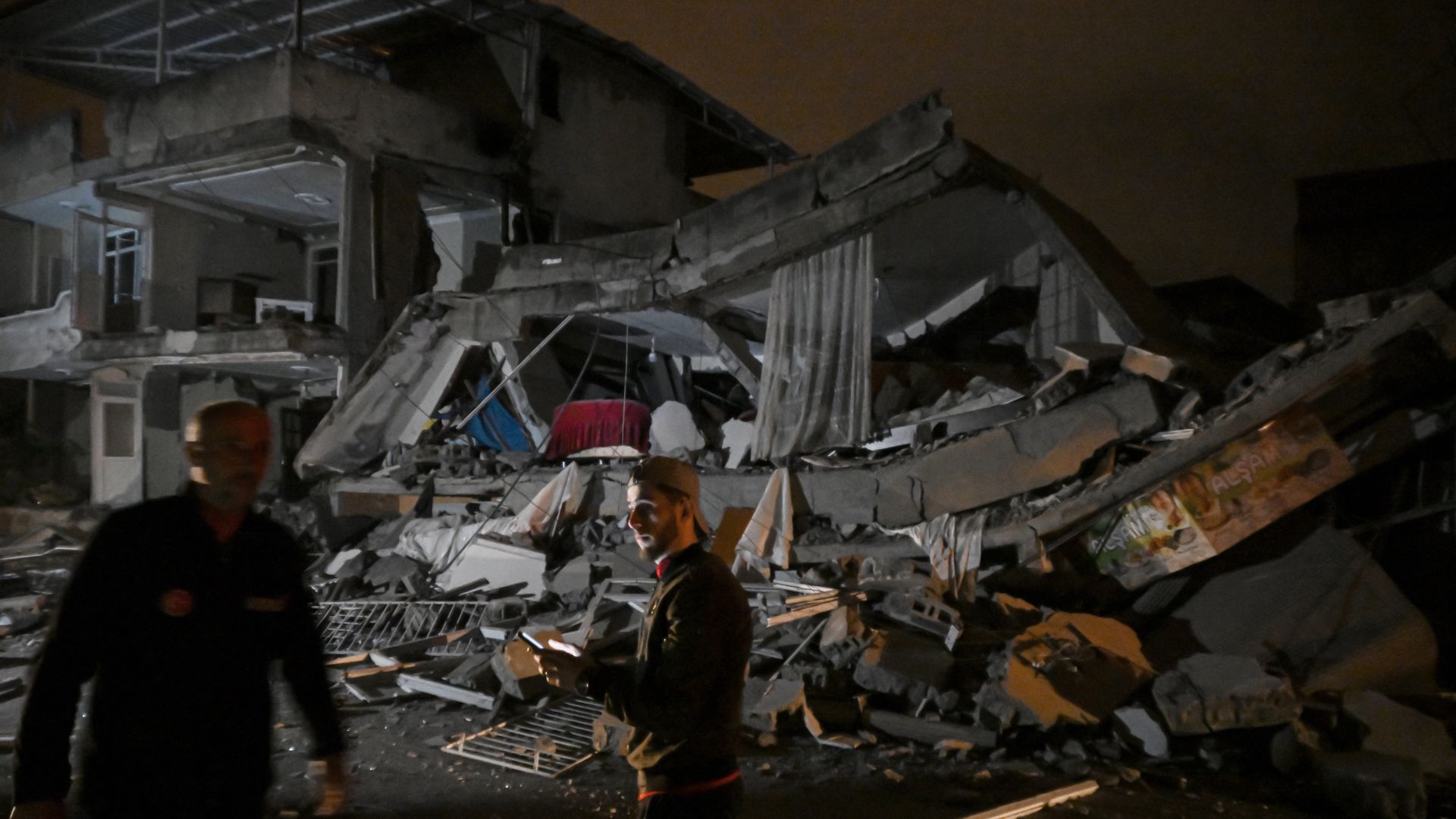 A view of a collapsed building after 6.4 and 5.8 magnitude earthquakes hit the Iskenderun district of Hatay, on Feb. 20. Photo: Elif Ozturk Ozgoncu /Anadolu Agency via Getty Images
A 6.4-magnitude earthquake shook southern Turkey on Monday, just two weeks after a massive earthquake and aftershocks devastated the region.
Driving the news: The first earthquake on Monday was followed by a second 5.8 magnitude quake, according to Turkey's Disaster and Emergency Management Authority, which urged people to stay away from the coastline as a precaution against possible rising sea levels.
The quakes struck Turkey's Hatay province and were felt in Syria, Jordan, Israel and Egypt as well, AP reported.
The combined death toll in Turkey and Syria from the massive earthquakes that hit the region earlier this month has neared 45,000.
State of play: Lutfu Safas, the mayor of Hatay, told Turkish broadcaster NTV that several buildings had collapsed and trapped people inside, the New York Times reported.
Safas urged people to avoid going near or inside damaged buildings.
Turkish Vice President Fuat Oktay said at a press conference Monday that eight people had been injured, CNN reported.
Syrian state media said Monday that six people had been taken to Aleppo University Hospital as a result of falling debris.
The Syrian Civil Defense, first responders also known as the White Helmets, said that a number of people had been injured in opposition-held areas in northwest Syria after being struck by falling debris, jumping from buildings, or from a stampede of people. Other buildings sustained damaged without causing injuries.
The White Helmets added that there was "a state of panic and fear among the people" as a result of the new quake.
"Most of the people went to the open areas and streets for fear of the collapse of the cracked buildings from the previous earthquake."
The Syrian American Medical Society, which operates hospitals in northern Syria, said a number of people — including a seven-year-old boy — had been treated after suffering heart attacks brought on by fear from the earthquakes, AP reported.
Editor's note: This is a developing story and will be updated.
Source: Read Full Article