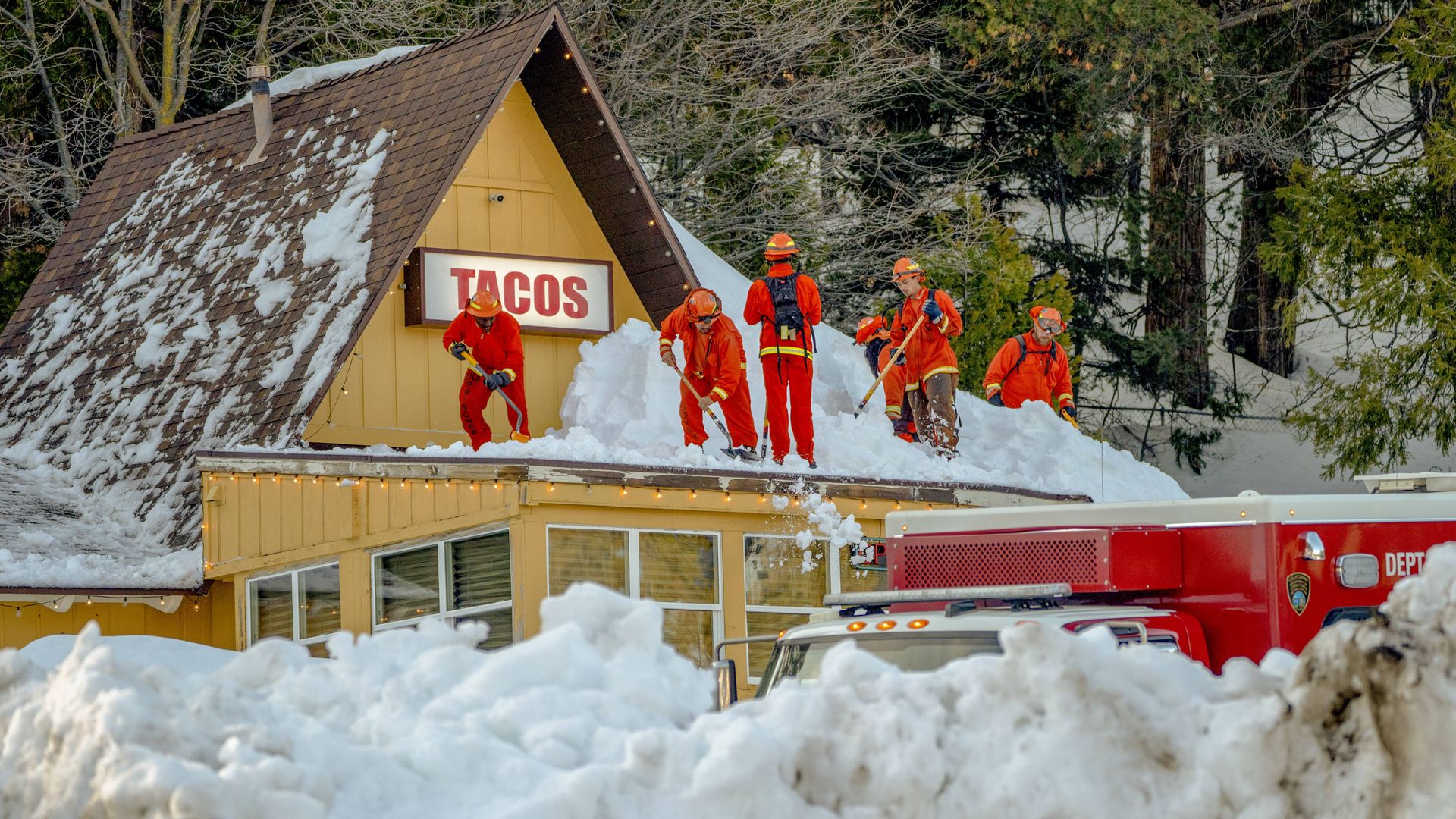 Inmate firefighters clear snow off the roof of a restaurant in Lake Arrowhead, California, on March 7. Photo: Kyle Grillot/Bloomberg via Getty Images
An atmospheric river event is making its way toward Northern and Central California and is expected to arrive Thursday and last through Friday.
Why it matters: This will be a milder storm than the series of blizzards that have hit the Golden State in recent weeks, delivering rain on top of snow even at mid-to-high elevations. With a near-record snowpack, that presents flood risks.
Threat level: Central coastal California and the central interior valleys could see several inches of heavy rain and a continued threat of flooding through much of next week, NOAA's Weather Prediction Center said in an online forecast discussion.
The rain on top of snow through about 6,000 feet is likely to cause flooding, including of streams and rivers, and water loading of homes and businesses could lead to structural damage.
Over a foot of snow will be possible for parts of the Cascades and Sierras.
State of play: The "Pineapple Express" storm is drawing moist air from the subtopics near Hawaii.
It has a trajectory of moving a lot of water vapor overhead, meteorologist Daniel Swain explained Wednesday.
Atmospheric rivers are long, narrow highways of moisture that can travel thousands of miles and are responsible for 30-50% of the wet season precipitation along the West Coast of the U.S., according to NOAA.
They have been unusually persistent and powerful so far this winter, with no signs of an impending weather pattern shift to drier conditions.
What we're watching: Computer modeling from the Center for Western Weather and Water Extremes is projecting that an AR3, or "moderate," atmospheric river event will occur.
By the numbers: The UC Berkeley Central Sierra Snow Laboratory has recorded 603 inches of snowfall since Oct. 1 as of Wednesday, qualifying as its fifth-snowiest year on record.
Of note: The astonishingly thick snowpack in California for this time of the year has raised hopes of more abundant water supplies and a less active early fire season across the state.
But so much snow sitting at lower elevations in particular is also a concern this week.
The dramatic swing from historically dry to very wet conditions in parts of California is consistent with what climate studies show will occur more frequently and sharply in coming decades.
Meanwhile, the San Bernardino and San Gabriel mountain ranges received enough snow to strand people indoors behind mounts of snow.
Big Bear City got more than 6.6 feet of snow in one week — that's the most snow since records have been tracked.
In nearby Lake Arrowhead, many roads were plowed for the first time in 10 days on Tuesday.
The heaviest rains from this upcoming storm are expected to fall north of these areas.
Source: Read Full Article