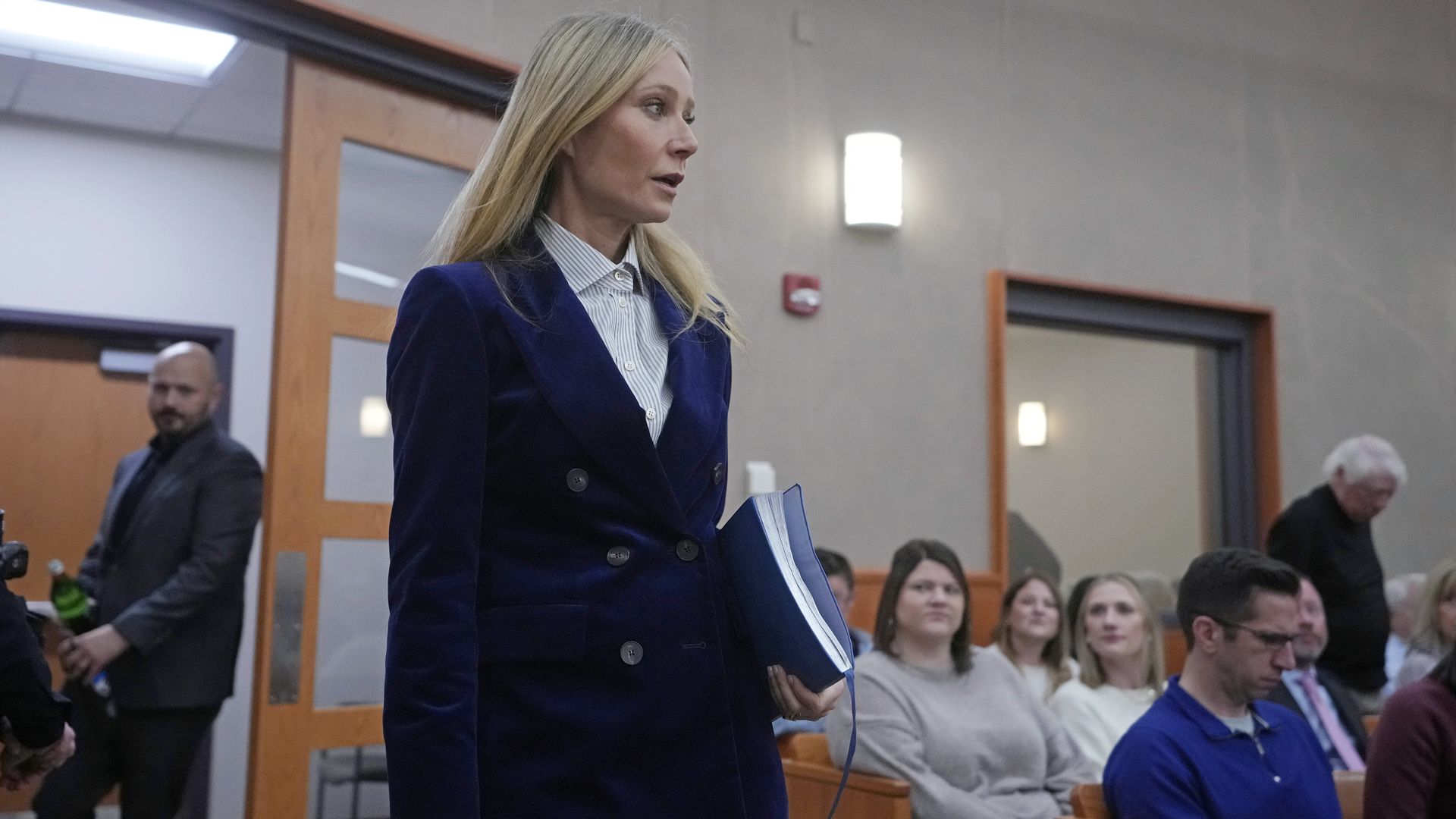 Gwyneth Paltrow enters the courtroom for her trial in Park City, Utah. Photo: Rick Bowmer/AP
A jury sided with actress Gwyneth Paltrow on Thursday in a civil trial centered around a 2016 ski collision involving a retired optometrist at Deer Valley Resort in Park City, Utah.
Details: The eight jurors came to their verdict nearly two hours after attorneys made their closing arguments on the eighth and final day of the case.
They determined Terry Sanderson, 76, was solely responsible for the crash.
Catch up quick: Sanderson sued Paltrow, 50, in 2019, claiming the Goop founder "skied out of control" on a slope and knocked him over, leaving him with four broken ribs, brain damage and other injuries, according to the lawsuit.
Sanderson originally sought $3.1 million in damages, but it was later reduced to $300,000.
In response, Paltrow countersued for a symbolic $1, attorney fees, and asserted Sanderson was the one who collided into her.
What they're saying: "We're pleased with this outcome," Stephen Owens, one of Paltrow's lawyers, said outside the courthouse following the verdict. "Gwyneth has always had a history of advocating for what she believes in."
"I felt that acquiescing to a false claim compromised my integrity," Paltrow said in a statement.
Sanderson told reporters the trial was "absolutely not" worth it.
Between the lines: The trial unfolded in Park City, an opulent resort town where celebrities have flocked for the Sundance Film Festival since the 1980s.
The big picture: Attorneys for both parties relied on expert witnesses to answer the key question of the trial: Who hit whom?
The 1962 Skier Responsibility Code declares downhill skiers have the right-of-way and must be avoided by uphill skiers.
Sanderson's attorneys argued Paltrow fled the scene without leaving contact information.
Meanwhile, Paltrow's attorneys asserted Sanderson was trying to capitalize on the actor's celebrity status.
Zoom out: The celebrity trial has become a spectacle, garnering substantial media attention, spurring memes, and discussions about wealth and class and appearing as a segment on the "Daily Show" that poked fun at the "whiteness" of the case.
A live stream of the trial on YouTube had received more than 134,000 views by Thursday evening.
The case drew comparisons to "The White Lotus," a popular HBO series about privileged vacation goers clashing at luxury resorts, the Associated Press reported.
Source: Read Full Article