India has extended its lockdown of 1.3 billion residents until 3 May, as coronavirus cases in the country passed 10,000.
Announcing the extension in a nationwide address, Prime Minister Narendra Modi urged citizens to continue following the rules of the lockdown.
"Till May 3, every Indian will have to stay in lockdown. I request all Indians that we stop the coronavirus from spreading to other areas," he said.
India imposed an initial 21-day lockdown on 25 March – the world's biggest shutdown – with only essential workers allowed to travel to work and residents barred from going outside except to buy necessary items.
Mr Modi said that in areas which fare well, some restrictions could be relaxed from 20 April to help poor daily wage earners and those working in the agriculture sector.
However, if there were any examples of "carelessness or dangers" afterwards, the changes would be revoked.
"I pray to the entire country to work hard to ensure that the spread of the virus should not be allowed in any new areas," Mr Modi said.
"For this, we have to identify hotspots and act – more strictly than we have done so far."
The prime minister said 10,000 hospital beds have been made available and there is adequate stock of medicines and rations.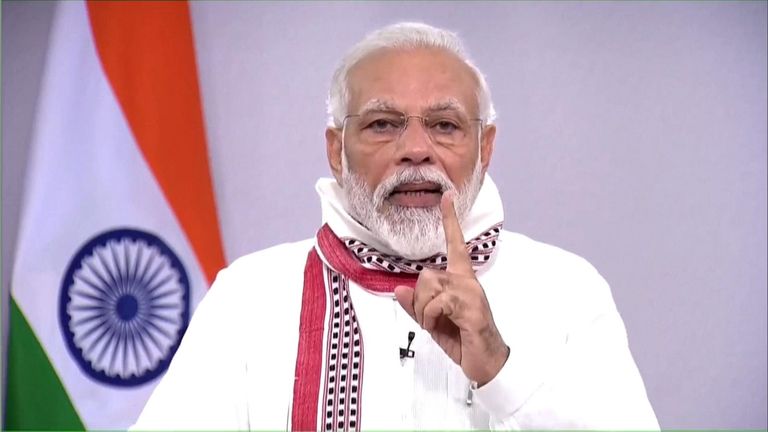 Mr Modi praised the actions of his government against the pandemic, saying it had been swift and appropriate in its response and had fared better than other developed countries.
"If India would not have adopted a holistic approach, if an integrated approach was not initiated, India's situation would have been different [compared to many developed countries]. It is clear from the experiences of the past few days that the path we have chosen is right," he said.
India shut cinemas and shopping centres when it had about 100 cases, and imposed the lockdown when it reached 550 cases.
Source: Read Full Article