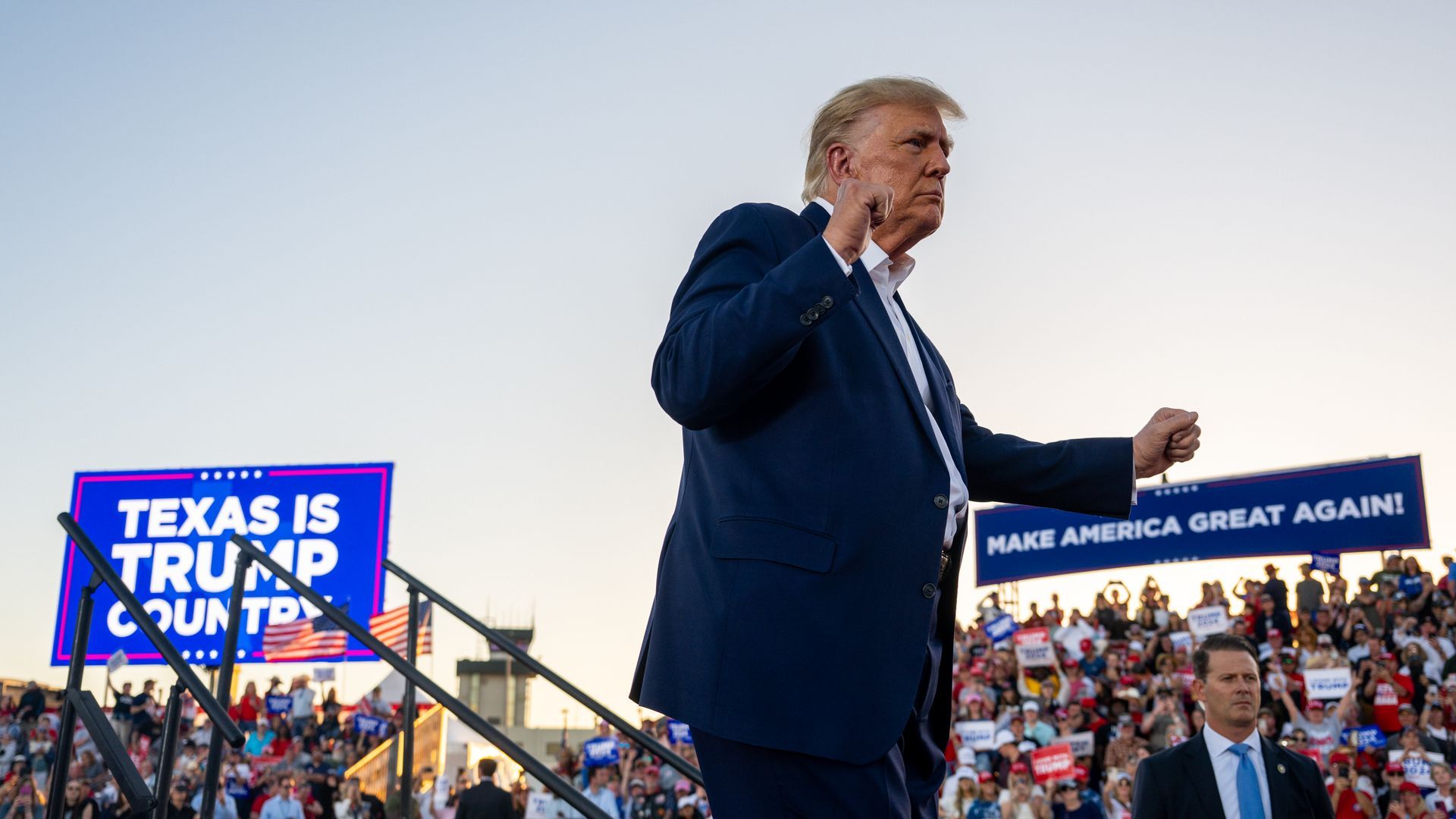 Photo: Brandon Bell/Getty Images
The indictment of former President Trump, at a time when he's surging in primary polls, is unifying the Republican Party behind him and will make it more difficult for his GOP opposition to get traction.
Why it matters: Nearly every Republican in elected office — from his top presidential rivals to center-right pragmatists to hardline Trump defenders — rushed to defend Trump and declare the indictment politically motivated.
The indictment, stemming from a probe into alleged hush money payments Trump made to adult film actress Stormy Daniels, could be the easiest case for Trump defenders to dismiss to a skeptical public.
It will make it easier for them to downplay more consequential investigations over his role in fomenting the Jan. 6 riots, mishandling classified documents and interfering in Georgia's 2020 election.
If the primary becomes a debate over whether Trump is being treated fairly, nearly every Republican candidate agrees with the besieged front-runner.
Our thought bubble: Think about how topsy-turvy Republican politics has become for Trump's top rivals to defend him after he's indicted. If that's the mood of the GOP electorate now, good luck getting past Trump for the nomination.
The first poll conducted post-indictment, by Yahoo News/YouGov, shows Trump's support skyrocketing among Republicans. Trump now holds a 26-point lead over Florida Gov. DeSantis (57%-31%) in the GOP primary — up from just eight points two weeks ago.
Yes, but: What's good for Trump in a primary is unlikely to translate into a general election. Trump had rock-bottom favorability ratings among all Americans before the indictment, and the specter of a presidential candidate facing the prospect of jail time isn't likely to win over swing voters.
The problem for Republicans is that their voters don't care much about electability. Just look at their 2022 roster of statewide candidates, which was filled with deeply flawed nominees who nonetheless cruised through primaries in which the most extreme rhetoric resonated.
Getting them to care about DeSantis, former South Carolina Gov. Nikki Haley or anyone else will be a Herculean task as Trump's legal predicament sucks up all the media oxygen.
Reality check: Democrats in swing states and districts were careful in their response to news of the Trump indictment, knowing excessive anti-Trump zeal could become a self-defeating distraction.
One example: Rep. Greg Landsman (D-Ohio), a freshman representing a suburban Cincinnati district, said in a statement: "Trump only does chaos and extremism. The rest of us — Republicans, Democrats, independents — we have to keep our attention on the actual work of leading this country."
By the numbers: An ABC News/Ipsos poll conducted after the indictment — but before the charges have been unsealed — found 47% of Americans view the prosecution as politically motivated, while 32% do not and 20% aren't sure.
79% of Republicans see the charges as politically motivated — illustrating the fusing of Trump's base with the Republican Party.
What they're saying: Republican strategists surveyed by Axios all expected Trump to get a primary boost from the indictment by the Manhattan district attorney's office, tapping into the grievance-attuned GOP electorate.
"Everyone is lining up behind Trump. Let the coronation begin," said Arizona-based Republican strategist Barrett Marson, a longtime Trump critic.
The intrigue: Trump's growing momentum in primary polls pre-indictment — combined with DeSantis' shaky debut on the national stage — already was altering the trajectory of the 2024 contest.
The lineup of potential candidates is shrinking, as potential Trump rivals assess their viability in a party that's becoming increasingly dominated by its MAGA base.
Others, such as former New Jersey Gov. Chris Christie or newly announced presidential candidate Asa Hutchinson, see an opening for a candidate to make a strong case against Trump at a time when everyone else is avoiding directly attacking the front-runner.
The bottom line: Trump is now the clear favorite for the GOP nomination. And if Republicans want to dethrone him, they're going to have to actually make a case against the former president.
The fact that so few Republicans dare to confront Trump speaks to the cold hard political truth, according to a recent Quinnipiac poll: 72% of Republicans said they believe Trump has had a positive impact on the GOP and 79% said they view themselves as part of Trump's MAGA movement.
Source: Read Full Article