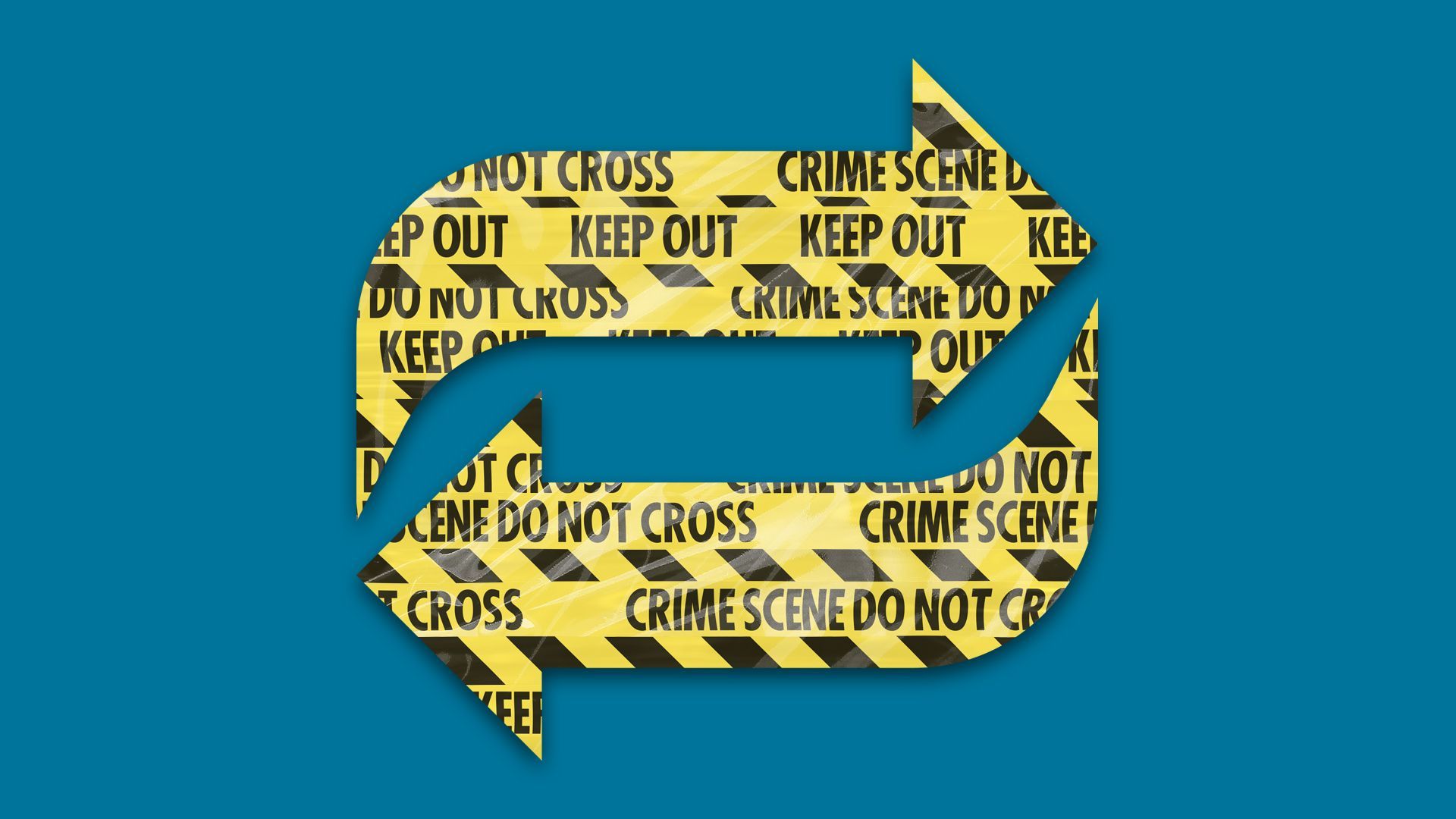 Illustration: Natalie Peeples/Axios
House Democrats will try to turn Republicans' anti-crime narrative against them on Monday at a GOP-led hearing in New York City that will focus on local crime — and the prosecution of former President Trump.
Why it matters: After years of being tied to left-wing calls to "defund the police," Democrats spy an opportunity to go on offense by trying to paint Republicans as the true foes of law-and-order.
The same day as the hearing, Senate Majority Leader Chuck Schumer (D-N.Y.) plans to introduce a resolution condemning former Trump's call to "defund" the Justice Department and the FBI because of their investigations of him.
Driving the news: The House Judiciary Committee, led by Rep. Jim Jordan (R-Ohio), is calling the hearing "Victims of Violent Crime in Manhattan."
Jordan's team said in a statement it will examine how Manhattan District Attorney Alvin Bragg's "pro-crime, anti-victim policies have led to an increase in violent crime and a dangerous community for New York City residents."
It's the latest iteration in a war between the GOP-led panel and Bragg over the latter's prosecution of Trump, which led Bragg to file a lawsuit against Jordan on Wednesday.
In that lawsuit, Bragg rejected the notion that New York is becoming more dangerous, and recounted hundreds of threats his office has received as Trump has attacked him and the judge in Trump's case.
What they're saying: Rep. Sheila Jackson Lee (D-Texas), a senior Judiciary Committee member, told Axios that Democrats' message on Monday will be twofold: hitting Republicans on their attempts to intervene in Bragg's prosecution of Trump, and hammering GOP inaction on gun control.
Jackson Lee said she expects Democrats to question "the rationale of the hearing [and] the authority of the committee … to interfere in a local jurisdiction."
"Because we are surrounded by mass shootings, we have to ask whether the resources and time [of the committee] are being used effectively to save lives in America," she said.
Behind the scenes: House Minority Leader Hakeem Jeffries (D-N.Y.) held a call with members and gun-control advocates on Tuesday to prepare for the hearing, according to multiple aides and members.
What we're watching: Attendance could be scarce — at least a half dozen Democrats on the panel aren't planning to attend, according to their offices.
As a result, both parties are moving to allow non-Judiciary members to sit in on the hearing, according to sources familiar with the plans.
Those guest panelists will include Rep. Elise Stefanik (R-N.Y.) for Republicans and Rep. Dan Goldman (D-N.Y.), who represents the district where the hearing is being held, for Democrats.
The big picture: The GOP is showing few signs of abatement in their attacks on Bragg. Rep. Andy Biggs (R-Ariz.) and other members of the right-wing Freedom Caucus on Thursday introduced legislation to "defund" the Manhattan DA's office by blocking it from receiving federal grant money.
Another bill Biggs introduced would restrict state and local law enforcement from using civil asset forfeiture funds from being used to investigate or prosecute presidents, vice presidents and presidential candidates.
Bragg's office said last month it used roughly $5,000 in civil asset forfeiture funds to investigate Trump and his businesses.
Source: Read Full Article