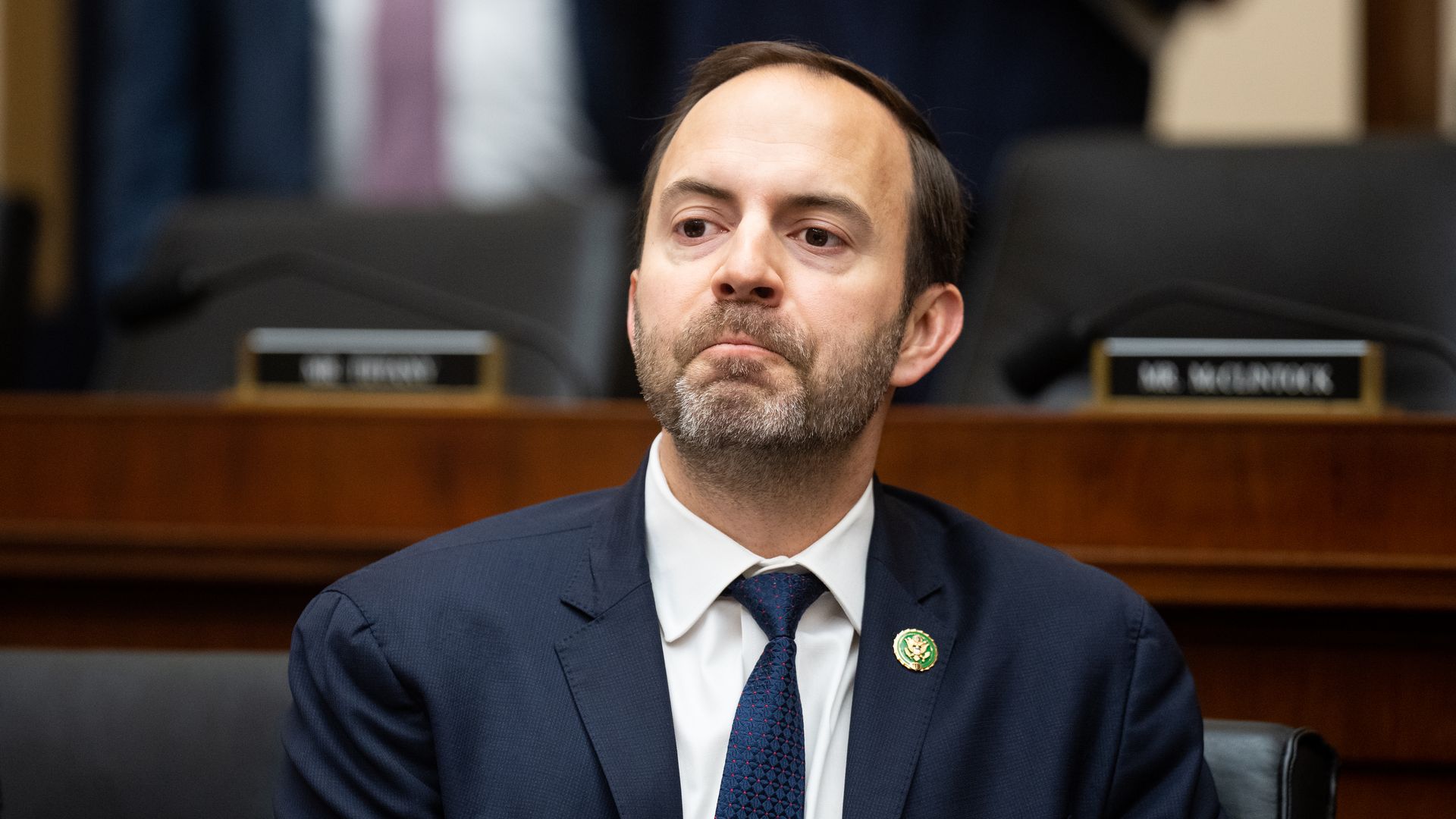 Rep. Lance Gooden. Photo: Bill Clark/CQ-Roll Call, Inc via Getty Images
House Minority Leader Hakeem Jeffries is leading Democrats in condemning remarks from Rep. Lance Gooden (R-Tex.) that suggested removing the security clearance of Chinese American lawmaker Rep. Judy Chu (D-Cal.).
Driving the news: The Democratic leader said Gooden's comments are "dangerous, unconscionable and xenophobic."
The controversy started with a Feb. 9 report by the conservative news outlet The Daily Caller, which reported that Biden appointee Dominic Ng held leadership positions in two organizations that the U.S.-China Economic and Security Review Commission considers fronts groups for an intelligence service for China's Communist Party.
The commission submits an annual report on the national security implications of the relationship between the U.S. and China.
On Feb. 15, House Republicans sent a letter asking the FBI to investigate Ng.
Ng, who is CEO and chair of East West Bank in California, was appointed chair of the Asia-Pacific Economic Cooperation Business Advisory Council.
He will play an influential role in U.S.-Asia trade relations in his new position.
That letter included a reference to Rep. Chu, saying she was an "honorary president" for the nonprofit group All America Chinese Youth Federations (AACYF) — and alleging several of the group's leaders were members of organizations deemed front groups for the CCP. The letter did not specify which individuals belonged to which groups.
On Feb. 17, Chu responded with a letter signed by other Asian American lawmakers:
"No Chinese Americans—indeed no Americans—should face suspicions of disloyalty or treason based on their ethnicity, nation of origin, or that of their family members," Chu wrote.
Chu is chair of the Congressional Asian Pacific American Caucus (CAPAC).
On Wednesday, Gooden attacked Chu's credibility on Fox News: "I'm really disappointed and shocked that someone like Judy Chu would have a security clearance and entitled to confidential intelligence briefings until this is figured out."
Gooden was responding to host Jesse Waters, who asked if "Congresswoman Chu should be looked into?
The response: Jeffries called Gooden's comments towards Chu "slanderous" and described Chu, the first Chinese American woman elected to Congress, as "a hardworking, patriotic American public servant."
Jeffries dismissed Gooden: "Look in the mirror, Lance. You have zero credibility."
Chu said in a statement: "Rep. Gooden's comments on Fox News questioning my loyalty to the USA is absolutely outrageous."
She called Gooden's remarks racist, adding "I very much doubt that he would be spreading these lies were I not of Chinese American descent."
What's next: The CAPAC called on House GOP leadership to join the group in condemning "attacks on Chinese Americans, elected or otherwise" similar to those from Goodman.
"After centuries of being targeted for not being 'American enough' and viewed with suspicion based on looking 'foreign,' this type of insinuation and fear mongering only further endangers our communities," the group said in a statement.
The White House and East West Bank did not immediately respond to requests for comment.
Source: Read Full Article